Vests & Lanyards!
Your source for flyfishing and flycraft resources since 1975.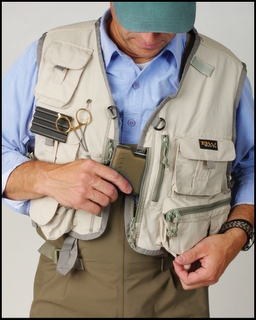 Someone famous wrote the line, "A thing of beauty is a joy forever!" Well, we feel the same way about our vests!! A good vest will help us carry, organize, find and fish better. It becomes the 'centerpiece' of our fishing uniform, and just like your American Express card, "Don't leave home without it!"
Ok, you're thinking, aren't we exaggerating just a bit? Well . . . yes, sort of. You actually don't need to have a vest . . . a chest pack, fanny pack or lanyard will do just fine, depending upon how you fish.
When we first start fly fishing, we feel that we must carry everything, just in case we need it. And there is no crime in this. In fact, we'd recommend that most beginners start with a good vest. The one pictured is about as good as it get, and you can get it here.
After a few years, your vest, that you carefully picked out and have cherished, begins to weigh about 15 pounds. Since it's getting heavy to wear all day, you finally decide to clean it out. What do you find? Let me take a guess: about 7 crushed cans, 2 kinds of bug spray, 5 kinds of floatant, all kinds of weights (some spilled in the bottom of the pockets), 3 pairs of reading glasses, 9 fly boxes, state licenses with manuals, tools for tying knots you can't even pronounce, open package of cheese crackers, 4 old leaders, Rolaids, 9 types of strike indicators (none of which you particularly like) 2 half eaten Slim Jims, 3 opened packs of gum, 2 pens, clip-on flashlight, anti-bacterial wipes and lotion, Kleenex, some nuts, an old camera with corroded batteries and a half eaten peanut butter sandwich. And these are just the things you DON'T want!!
The point we're making is that most of the things you carry are either worthless, worn or unnecessary. So what should you do? Get a vest!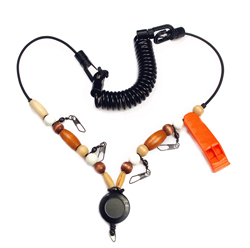 Now, not everyone will agree with us on this issue. In fact, the folks out 'West' think of the fly fishing vest as a sort of 'Eastern' affliction. They like to keep it simple. They practice the "less is more" philosophy. The Westerners seem to prefer lanyards and their shirt/pants pockets. This is excellent advice, but most of us take 20+ years in order to "get it!"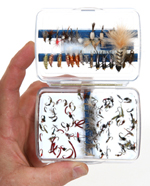 If you think about it, you usually know what you're going to need on most days you fish. And really . . . do you have to carry all those different fly boxes?
And since we're talking about being minimalistic, Matt, at Cliff Outdoors, has come up with a fly box call the "Days Worth" shown at the left. Couldn't you get by with this on most fishing excursions? (We know that the bass and salt fishermen need something bigger . . . )
There is a compromise; it's called the 'Chest Pack.' And for many fishermen, it's like 'Baby Bear's" porridge . . . "just right!" It'll hold just enough, but not too much to weigh you down. These are becoming more and more popular.
We think that all this stuff is becomming a bit too 'trendy' for our tastes. Vests and packs now come in a variety of colors, sure to scare away the fish and are designed by 'designers' instead of fishermen! And they have features galore! That's all well and good, but please don't think you have to spend a lot of money in order to enjoy yourself on the water and eventually . . . catch fish!
The bottom line is that the 'container' you use to carry your 'stuff' around in is a matter of taste. Whichever you choose to use, it'll become part of your essential fly fishing outfit.