Flash, Tinsel & Wire!
Your source for flyfishing and flycraft resources since 1975.
Flash Materials
Crystal Flash (Krystal Flash)
Mass confusion is how I'd describe this category of materials, so let me make this as simple as possible.
If you want to add some thin strands of flash material to your fly, or make the whole body out of flash materials, then you want to use Crystal Flash aka Krystal Flash. This is the kind of thin flashy strands that you find in the tail of a Wooly Bugger, for instance. This is all made from twisted mylar strands.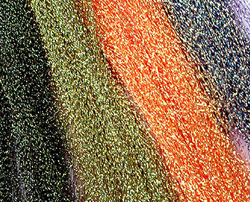 We sell three types: 'Standard Flash' is the basic material, 'Crystal Mirror Flash' is made from pearlescent mylar and 'UV Enhanced Flash' which is more pearlescent. Start with the Standard Flash in the basic colors of gold, silver and rainbow.. Augment your selection with the Crystal Mirror Flash (pictured) in pearl and olive. Our Crystal Mirror reflects light 3 times Standard Flash, and is the most unbelievable and incredible flash material on the market. The UV Flash in just plain amazing when light hits this material. I'd try this in pearl, chartreuse and olive black.
Lastly, there's 'Midge' flash which is like our Standard Flash, only much smaller for your tiniest flies. If you tie small flies, you definitely want to give this a try. It's also available in UV enhanced pearl, too!
Flashabou
These are strong, flat mylar strands. It's used as winging material and can be wrapped like tinsel too. This is very popular in saltwater flies and larger streamers. Also available in holographic and larger saltwater varieties.
Tinsel
Tinsel is used on many different flies for many different purposes. I'd start out with the flat tinsels, which are usually silver on one side and gold on the other. They're inexpensive and I'd want to have all three sizes. The pearlescent mylar tinsel comes in handy too and you can just start with the medium if you want to save a couple of bucks.
You'll begin to find many patterns that are called "flashback" this and "flashback" that use a variety of color tinsels. These are fun to work with, add to the creative process and give extra flash to otherwise drabby flies. Also two sided, they come peacock/orange, copper/blue and red/green. I'd try some of the peacock/orange first. You'll like the effect it has on some of your nymphs and streamers
There are a whole host of other tinsels available, holographic, metallic braid, oval and embossed, to name a few. Don't bother with these until you've spent time and money with the basic ones described above. The one exception I would make is if you're tying small flies. In this case, you'd want to try some Micro Tinsel and Midge Sparkle Braid.
Wire
Again, we want to start with the basics here. Gold and silver wire in fine and medium fine is commonly used in nymphs, streamers and even some dry flies. You can also use fine 'colored' wire to add a bit of dazzle - available in red, green, blue, hot pink, hot orange and chartreuse.
If you're tying 'Brassie' flies, you'll need brassie wire in a variety of colors. These simple flies are easy to tie, sink quickly and most importantly, catch fish!