Fly Tying Threads!
Your source for flyfishing and flycraft resources since 1975.
The number of sizes and types of threads can make a 'newbie's' head spin! So what I'm going to do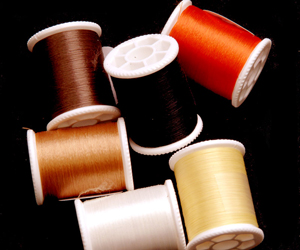 here is simply take you through some of the basics to get you up and tying as quick and with as little frustration as possible.
For the sake of simplicity, consider that you'll usually find the sizes of thread designated in deniers or /0's. I'll use both in making the suggestion of what you'll want to choose when you start tying because some manufacturers use either one or the either. I'll start with the heaviest threads and work my way to the smallest (thinnest) threads. For general fly tying purposes, assume I'm talking about either nylon or polyester thread material.
Most thread manufacturers make a very heavy thread which is used to tie the biggest flies, flies that need added strength to withstand larger fish and flies where the overall weight is not a problem. For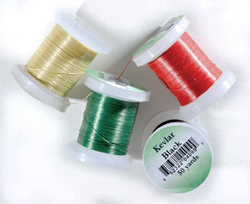 this purpose 3/0 would be best. In terms of denier, we're talking in the range of 210-230. You also might opt for this when spinning hair for large bass bugs as well. In short, this thread won't break very easily at all and will allow you to tie a strong, lasting fly with lots of materials.
Also in the heavy category is Kevlar thread. It's measured in neither denier or /0, but is one of the toughest threads you can find. The saltwater tiers love this material.
For basic tying, a 6/0 thread will be the easiet by far. You can use it for most all of your nymph, wets and even some dries. This is my favorite choice for most beginners. It's strong enough so that you can pull the thread with a bit of "oooomph" and it won't break. This size will be a staple for the new tyer and still remains as the thread I reach for most often. In terms of denier, we're at about 130-140. Danville thread is an exception to this as what they call their 6/0 is 70 denier.
8/0 is a favorite among most of the folks that tie dry flies. It's lighter in weight and also builds up more slowly on the fly, which also decreases weight. The denier equivalent is about 70. This will break a lot until you get used to adjusting to the light touch necessary to maneuver this thread.
12/0 is used for the smalles of both dry and wet flies, because of its thinness, it breaks easily and will take much practice to use. Tiers like it because it is very light (for dry fly midges) and doesn't build up much on the hook.
My Recommendations
For all around tying, use a good 6/0 thread. Our H&H Euro-Thread is the strongest on the market and will make it very easy for you to learn. Even our 8/0 can be manhandled a bit, does not break very easily and is slow to build up because of its thin diameter. Also, Danville Flymaster 6/0 is excellent for all around purposes as is Uni-Thread 6/0.
There is no reason you can't tie a good 'larger' fly with a good 6/0. In most cases, you won't have to go up to a 3/0 for your streamers.
If you're just starting out, stay away from anything smaller than 8/0. It'll cause more frustration than results. When you are successful with the 8/0, then you can move down in size. Our H&H brand is much easier to use than most so if you're new, but want to give smaller flies a try, use our 8/0.
Last Words on Threads
Some threads are waxed and some are not. I'm one of those who seldom use wax unless it is absolutely necessary. I wouldn't lose much sleep over this. Remember, you can always add a touch of wax when necessary.
Also, there are threads with a flat profile and ones with a round profile. This won't matter much at the beginning. Just know that every time you wind your thread over the hook, you are actually winding it clockwise. Get in the habit of unwinding the thread, by giving the bobbin a good spin in the counter-clockwise direction 2-4 times during the construction of the fly. This'll help the thread lay nicely on the hook and hold the maximum amount of materials with the fewest amount of turns.
For colors, start with black, brown, olive, tan, white & yellow. These colors will get you well on your way to tying good flies.