CDC, Duck & Goose!
Your source for flyfishing and flycraft resources since 1975.
Ducks and geese are unique because they are aquatic birds. Because of this, they have some feathers with interesting qualities.
CDC, or 'Cul-De-Canard,' is a versitile feathers found on the 'bottom' of the bird. It's a versatile material that actually floats quite well. Use it for wings and 'underwings' because of its flotation. It also makes a great gills on some nymphs.
CDC can be from either a duck or a goose. Duck CDC is more popular and is also available in 'tufts.' These tufts are softer and more supple than regular CDC. Use it for emergers, midges, comparaduns and dries. We have it available in about 12 colors and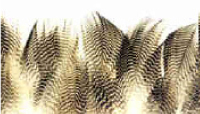 most all of them are popular.
But there's more uses for duck. Mallard flanks and shoulders, gadwall flanks, lemon wood duck feathers and black/white barred wood duck are popular as wing material on a variety of flies. Gadwall flanks are shown at left.
Duck and goose quills are packaged in 'matched pairs,' which make it an ideal material for wing on conventional 'wet' flies (these are among my favorites).
No discussion about goose would be complete without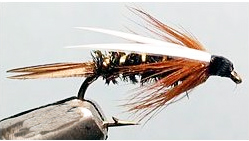 mentioning biots. These are thin feathers used on nymph sides, tails and so on. If you tie for more than 6 months, you eventually stumble upon a recipe that calls for its use. The popular Prince Nymph uses these biots in as tails (brown) and wings (white) on the fly.