Hooks!
Your source for flyfishing and flycraft resources since 1975.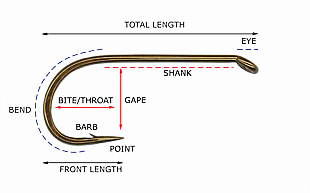 This is where the beginner can really sink a lot of cash into unnecessary purchases. Define what you intend to tie in the beginning and just buy hooks for that purpose. When your goal changes, buy hooks for the new pattern(s) you intend to tie. Start with 25 packs buy just one or two sizes of that hook. With more fodder around the tendency is to manufacture a lot-most of these first flies will be junk. Buy a few hooks concentrate on tying a few good flies. If the first ones do not please you cut the material from the hooks and start over. Learn good habits to begin with. Don't keep repeating the same old mistakes. Start with easy patterns. In the beginning, it doesn't matter that you may not use these first few patterns. It is important to learn how to do a few simple tasks correctly. Start with something easy-like a brown hackle wet fly or a woolly worm nymph. From here we can go to more difficult patterns like dry flies, streamers, bass bugs, saltwater patterns, etc.
When I am teaching myself a new pattern, I generally tie a dozen of the pattern at a time. I'll then compare the first fly with the 12th, and am usually amazed with the progress. Also, after tying a dozen, I'm more apt to remember the pattern for future reference.
There are many leading brands of hooks touting the lastest this or the sharpest that! Please know that most recognizeable names are all very good. Rather than worrying about getting the best brand of a hook, spend more time choosing the right 'style' of hook, like the ones below.
Basic hooks and their descriptions:
Dry fly - start with our standard hook HH904 for vast majority of dries. The Mustad standard dry hook is the R50-94840
Nymphs - start with HHH905 for most nymphs. If you're adding a bead head, you may want the extra length of the HHH909. The Mustad hook equivalents are the S80-3906 and the S82-3906B.
Streamers - a perfectly good wooly bugger or Mickey Finn can be made with the 4X long HHH914. Mustad equivalent is the R74-9672.
Stimulators - our HHH903 is a light curved hook perfect for these imitations. Mustad equivalent is the C53S.
Curved nymphs - our HHH903 is one of our most popular hooks and many tiers use it for most if their nymph flies. Also called caddis/sedge hooks. Many patterns that call for a standard nymph hook can be tied on this hook. You can also easily add a bead to these hooks. Mustad equivalent is the C49S.
Click here to check out our Fly Tying Hooks
For more information about hooks in general, visit the Mustad 'about hooks' index.