Cork Grips!
Your source for flyfishing and flycraft resources since 1975.
Figuring out the type of grip you want on your fly rod may seem complicated at first, but it's really not that difficult to understand.
The Reverse Half Wells is the favored choice for weights 1-6. The Full Wells is favored for weights 7 and up. Cigar grips are not as popular and they once were, but I like them, especialls for down locking seats. They're also the grip of choice for many bamboo fly rod builders.
| Reverse Half Wells | Full Wells | Cigar |
| --- | --- | --- |
| | | |
Exceptions can be made for the following reasons:
Style - you prefer one over the other as a matter of taste
Size - smaller hands often prefer Reverse Half Wells and larger hands prefer Full Wells.
Feel - you prefer the way a particular shape feels in your hand
In addition, there is a matter of length. Most grips are 6 1/2 - 7" in length. Again, a smaller hand may prefer a shorter grip. And when you're building a shorter or lighter weight rod, say a 6 1/2' 2 weight, you may prefer the way a 6" grip looks, as opposed to a 7" grip. It's really that simple.
Often, with weights of 7 and over, builders like to add a Fighting Butt, which is technically part of the grip, to their rod. It attaches to the opposite end of the reel seat, are 2" long and may look like these: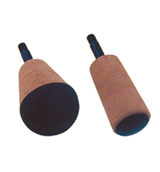 Fighting grips can be detachable, like you see here or permanent. Some builders use smaller Fixed Fighting Butts on rods of 5 and 6 weights. They usually only 1 - 1 1/2" long. They look nice, but I think they get in the way more often than not. And frankly, you really don't need one when fighting a 22" brown trout.
If you're building rods longer than 10' in length, you may consider using Spey Grips or Switch Grips. These are have a longer fore section, 11-14" in length and a permanent butt section of 3-5." Because Spey rods can be up to 15' in length and the Switch rods are shorter, grips that are labeled Spey will usually be longer and fatter. Examples of each are below.
Typical Spey Grip

Switch Rod Grip

(Batson High End)

You can also make you own grips from individual cork rings, shown right. They're usually around 1/2" thick, so to make a 7" grip, you'd need at least 14 of them. Purchasing a preformed grip is usually more economical.