Saddle Hackle & Marabou!
Your source for flyfishing and flycraft resources since 1975.
The most commonly used feathers in fly tying, and a staple for both beginners and experienced tyers/fishermen are saddle hackle and marabou. And when we use these terms (with non genetic hackle), we're almost certainly talking about feathers from turkeys, which can be dyed to just about any color.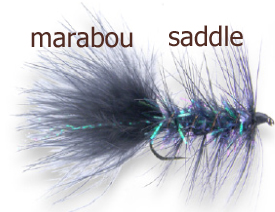 One look at this fly, the Wooly Bugger, and you'll understand why we use so much of it. This simple fly is usually the first one we learn to tie in beginning fly tying classes. And not only is it simple to make, but it's a highly effective fly which will catch trout, bass & panfish just about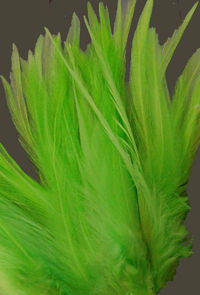 anywhere in the world.
Saddle hackle is the feather that we 'palmer' or wind around the body. This is usually to give the fly the illusion of having legs of some sort. From the photo on the right, you can see that the feathers are long and thin, usually about 4-6" for most fly tying purposes.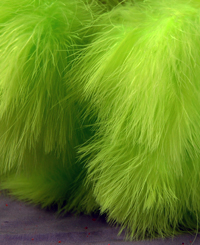 Marabou, on the other hand, is a softer, fluffier feather that is used on the tail portion of the wooly bugger. See the photo at left for an example.
Both of these have other purposes for other flies, but you get the idea.
Trout fly tyers will make wooly buggers in just about any color, but black, white, brown, olive and yellow are among the most popular. We find that the saltwater tyers us these as well, and in addition to the blues, reds, greens, purples and fluorescent colors.