Legging Materials!
Your source for flyfishing and flycraft resources since 1975.
Ok, I confess. I'm a leg man! I just love legs . . . and I'm talking about my flies, so quit thinking that other stuff!
On of my favorite fly tyers (and mentor), Dan Delekta, puts legs on just about everything. And I do mean EVERYTHING! His line of 'Delektables' is very popular and many of the patterns incorporate legs. He'd say that a extra 'wiggle' is always good.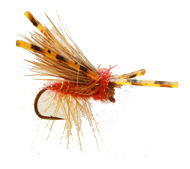 Consider, for example, the "caddis fly" in the photo to the right. It has the basic of an elk hair caddis, but with 2 exceptions: the body material is a flashy synthetic (Prism) and, of course, it has legs. (This patten is adapted from Dan, but his are much, much better!) It's a very, very effective pattern because it looks like a caddis, it has extra wiggle as an attractor, it has some of the elements of terrestrials, and so on.
Oh, and here's the best part! If you don't think the fish are liking the legs, just cut them off and fish it conventionally! It's like taking two flies out at the same time.
Basically, there are two main kinds of legging material: rubber and silicon. I like the way the rubber ones look and they're available in many sizes including mini for midges. Rubber will dry out over time, so just know that they may crack after a season or two, especially exposed to the hot sun and/or salt water.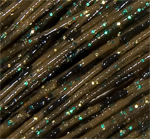 Silicon aren't available in the smallest sizes yet, but they allow for some absolutely 'juicy' combinations. Consider a selection from our Hook & Hackle silicon legs in the photo on the left. Juicy really is sthe only way to describe them and some of the other combinations will also knock your socks off! And the silicon legs will not deteriorate the way the rubber ones will. These are the first choice for salt water flies as far as I'm concerned.
Other legging material Dyna-Floss or Super-Floss which is a Spandex material or the Sexi-Floss which is the same, only 'crinkley.'
So try some extra legs on your nymphs, dries, terrestrials and so on. Just have fun, enjoy and fish!