follow us:
Welcome to Hook & Hackle!
Your source for flyfishing and flycraft resources since 1975.
We're dedicated to fly fishing education
Welcome to our website, dedicated to the teaching of fly fishing basics, swapping stories, tying your own flies, leader making and, of course, fly rod building for which we're know worldwide! We have become an international leader in helping folks to do what we call "flycraft," which is make their own flies and make their own rods with our help. As you know, we have a web store, which has become one of the most popular destination for for folks 'fishing' on the web to purchase the highest quality products available, often at a more reasonable price than our competition.
H&H Fiberglass "Nostalgia" intro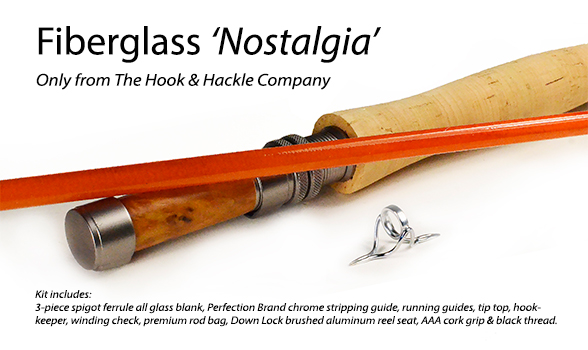 Full kit for the Fiberglass - the blank is smooth and done in a burnt orange, its medium fast. The kits come with old fashioned Perfection stripping guides that highlight their incredible simplicity. Available in 6'6" 3wt, 7' 3wt, 7'6" 4wt (shown) and 8' 5wt.
Photo of the Month


John Loyd Catches Big with Xi
John built a 9' 8 weight "Xi" a few years back and landed this HUGE False Albacore! Looks like the beat the world's record .... too bad he wanted to release it so did not have it officially weighed. Good for John and the false albacor
Our Company Mission
Our mission at The Hook & Hackle Company is two fold: first to promote fly fishing to folks that have not yet benefited from the many gifts offered by this pasttime. The second part is to provide goods and services for needs of fly fishermen worldwide by providing a one-stop-shop for purchasing the items needed to be successful at fly fishing, fly rod building & fly tying.
Full Service Shop
We are full service, with real people who answer real phones during regular business hours, EST. Our attention to personal customer service is second to none!
We will do everything within our power to guide you through purchasing the proper equipment, components and materials, in order to make your fly fishing experience the best it can be!
The Hook & Hackle Company Guarantee
If for any reason you're unhappy with any Hook & Hackle brand product, for whatever reason, you can return it to us within a reasonable amount of time for a full refund. We'll even pay the postage for the return!